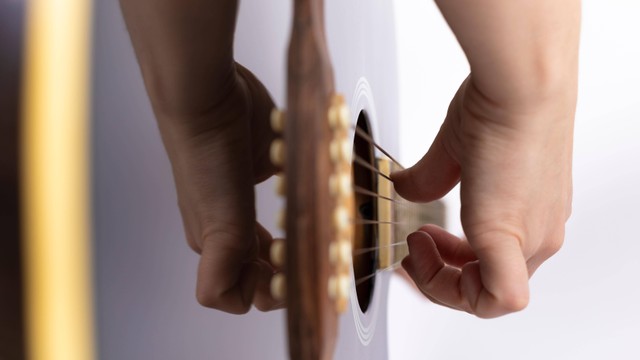 Celestial merupakan lagu yang dipopulerkan oleh penyanyi laki-laki asal Britania Raya,
Ed Sheeran
. Lagu berdurasi 3 menit 29 detik ini merupakan lagu pertama dalam single bertajuk "Celestial" yang dirilis pada 29 September 2022. Penasaran seperti apa lagunya? Untuk mengetahui lirik lagu dan chord "Celestial" yang dinyanyikan Ed Sheeran, simak selengkapnya di bawah ini.
Lirik Lagu Celestial – Ed Sheeran
 You see tonight, it could go either way
D A Hearts balanced on a razorblade
G Bm We are designed to love and break D A
And to rinse and repeat it all again
G Bm I get stuck when the world's too loud D A
And things don't look up when you're goin' down G Bm
I know your arms are reachin' out D A
From somewhere beyond the clouds
Like my troubled heart is a million miles away G
Like I'm drunk on stars and we're dancing out into space G Bm D A
G Bm I see the light shining through the rain
D A A thousand colours in a brighter shade
G Bm Needed to rise from the lowest place D A
There's a silver lining that surrounds the grey
When I get lost, will it come back around?
D A Things don't look up when you're goin' down G Bm
I know your arms, they are reaching out D A
From somewhere beyond the clouds
Like my troubled heart is a million miles away G
Like I'm drunk on stars and we're dancing out into space G Bm D A
G Bm We were made to be nothin' more than this
D A Findin' magic in all the smallest things
G Bm The way we notice, that's what really matters D A
Let's make tonight go on and on and on
(We were made to be nothin' more than this
D A Findin' magic in all the smallest things)
(The way we notice, that's what really matters D A
Let's make tonight go on and on and on)
Like my troubled heart is a million miles away G
Like I'm drunk on stars and we're dancing out into space G Bm D A
Celestial (We were made to be nothing more than this)
Ohhh (Finding magic in all the smallest things) G Bm
Celestial (The way we notice, that's what really matters)